Walling's Middlesex County, 1856 <> MyWalling <> YON's Historical Maps of Sudbury <> More Sudbury Maps <> jch.com <> YON
Sudbury from Walling's Middlesex County, 1856
Since there are very few maps of Sudbury (because it was a farming town?) I believe this is the first map after the State mandated 1830 maps (Wood). The version at the Harvard Map Collection (see below) was folded down the middle, so, a wide swath of Sudbury is gone.
Henry F. Walling and the Mapping of New England's Towns, 1849–1857 By Michael Buehler (PDF)
from The Journal of the Washington Map Society, Issue 71 Spring 2008
"Henry Walling (1825–1888) was arguably the most accomplished..."
History
I have been a hobbyist buying old maps at the local used bookstore in Sudbury - Barely Read Books and scanning them and then donating the maps for auction at our church or svtweb.org. And, since the Town's archive of old maps is not what it should be I've started a web page on Sudbury Maps. About a year and a half ago I bought a reproduction of the Sudbury section of Walling's 1856 map which I was unaware of. It has good detail of Sudbury and would fill a gap in Sudbury Town maps between 1830 and 1875.

The reproduction I have is from the Havard scan. Unfortunately, Sudbury is right in the middle, so, any folded versions are missing a good chunk of Sudbury. Same with the BPL version. And the original sheets meet in Sudbury, too. In addition to the Harvard & BPL versions, I have seen one for sale by a dealer that did not have good detail of Sudbury. I have photographed the one at the Watertown Free Library - rolled with laquer - Sudbury not too bad. There is a mounted version in the Sudbury Town Hall that is in poor condition and the copy in the Goodnow Library is in fair condition. I have also determined that I will never get a satisfactory result by photographing - at least not without a significant improvement in equipment and methodology. I was quite careful at Goodnow, but...

So, I drove out to Boylston MA on December 18th, 2011, and the Sudbury portion of the map was in good condition. The map over all is in good condition - with a bit of water damage at the top. Photo attached. So, I bought it, moving me from hobbyist to investor. Sort of. My primary goal is to get a clean hi-res scan of Sudbury. I am hoping to sell it at some point in the future.
I bought a copy of the Walling Map!!!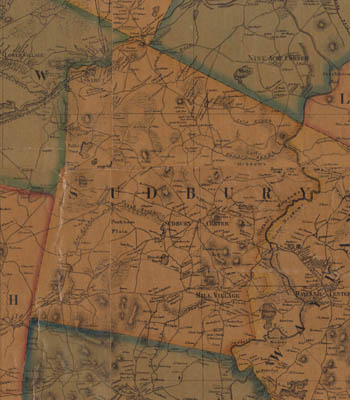 Walling Map from Goodnow Library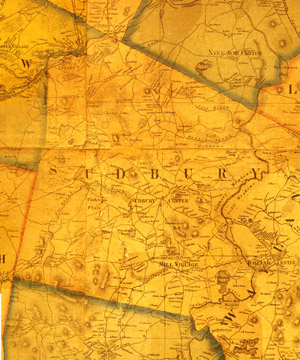 In November of 2011, I photographied the Sudbury section of the Walling Map at the Goodnow Library. I came to the conclusion that I will never get what I want from photographs.

sigh... Thank you to Esmé and the Trustees for the permissions to photograph.

While poking around I found the BPL has a good scan: http://maps.bpl.org/details_12690

Still, Sudbury is right in the middle, so, a large portion missing.

Walling Map from Watertown Free Public Library
I took a bunch of photos of the map at the Watertown Free Public Library - inexpertly. However, as I was assembling them, I noticed that the roads do not line up with present roads. Also, this is a 5'x5' map that was printed in at least 4 sheat and Sudbury is right in the middle, so, there are two seems. Since I just have a huge collection of pixels anyway, I decided to make Version 4 match the current Town road map.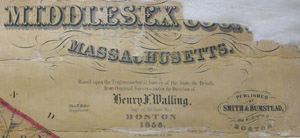 I am getting ready to start Version 4.0 of the Close up of Sudbury from Henry F. Walling's Map of Middlesex County, 1856. It will go here: Historical Maps of Sudbury
I gave up on Version 4.0 and took photos of the Walling map in Sudbury Town Hall and Goodnow Library.
Version in Sudbury Town Hall
photographed 2011.07.29 - The original image is 9672 × 10438 and 32MB.
| | |
| --- | --- |
| Cap: SudburyTownHallWalling4k.jpg | Cap: SudburyTownHallWalling1856t.jpg |
Close up of Sudbury from Henry F. Walling's
Map of Middlesex County, 1856
Photographed at the Watertown Free Public Library
Assembled by YON - Jan C. hardenbergh 2010.12.12 Versions 1.0 -> 3.0


On Dec 8, 2010, at 11:37 AM, Localhistory wrote:

The Director pointed out we have a Permission to print policy 
(see attachment) and think this part pertains to your publishing.

"Credit must be given to the Watertown Free Public Library and 
the creator of the work, if known. For web site use, credit should 
appear as a part of or next to the image."

Thanks again for the photos,

Kay
Local History Librarian
Watertown Free Public Library

-----Original Message-----
From: YON - Jan C. Hardenbergh
Sent: Thu 12/2/2010 2:16 AM
To: Localhistory
Subject: Re: Walling's 1856 "Map of Middlesex County, Massachusetts"

Here are two sizes of the same image.

http://www.hardenbergh.org/places/sudbury/Watertown1856s.jpg (small)
http://www.hardenbergh.org/places/sudbury/Watertown1856.jpg

Just in case this is ever an issue, I assign the 
Watertown Free Public Library joint copyright for any purpose,
including the right to assign joint copyright to anyone else. 
For my own part, this is a copy of Walling's work, so, in the 
public domain now and probably a work by Massachusetts, 
so, always in the public domain.

Also, this came out well: Walling1856TownCenter.jpg
And, here is the "before" picture:  WallingWFLbefore.jpg
  It will take a while

Thanx again!

YON - Jan C. Hardenbergh <> www.jch.com <> Pixelsmith
Jeff Lehman's five virtues: a love for complexity, a patient spirit,
a will to communicate, a sense of humor, and an optimistic heart.


Walling WFPL v3

Version 2.0 - figuring out that did not match

Before Starting - v1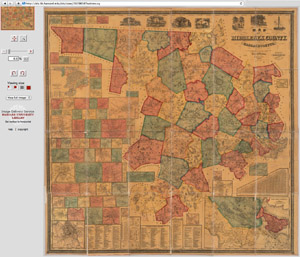 Image from Harvard Map Collection
On Nov 22, 2010, at 10:22 AM, Bonnie Burns via RT wrote: This link:
http://nrs.harvard.edu/urn-3:FHCL:608302?buttons=y will take you to a page that will display the map of Middlesex County.

Bonnie Burns, Librarian for Geographic Information Services, Harvard Map Collection

Original Photographs taken at Water Town Free Public Library
Cap: IMG_2484.JPG

Cap: IMG_2487.JPG

Cap: IMG_2489.JPG

Cap: IMG_2485.JPG

Cap: IMG_2481.JPG

Cap: IMG_2479.JPG

Cap: IMG_2477.JPG

Cap: IMG_2469.JPG

Cap: IMG_2471.JPG

Cap: IMG_2473.JPG

Cap: IMG_2475.JPG

Cap: IMG_2467.JPG

Cap: IMG_2466.JPG

Cap: IMG_2462.JPG

Cap: IMG_2460.JPG

Cap: IMG_2454.JPG

Cap: IMG_2456.JPG

Cap: IMG_2458.JPG

Cap: IMG_2452.JPG

Cap: IMG_2450.JPG

Cap: IMG_2449.JPG

Cap: IMG_2447.JPG

Cap: IMG_2439.JPG

Cap: IMG_2440.JPG

Cap: IMG_2442.JPG

Cap: IMG_2444.JPG
mkthumps.py Sat, 04 Dec 2010 YON Jan C. Hardenbergh