Quantuck
Bay, Beach, Canal, Creek and Island - Quantuck has them all.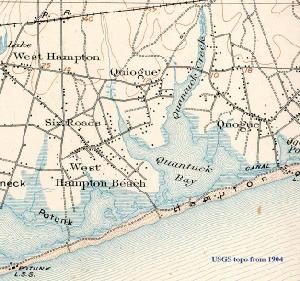 Quantuck Creek runs from the Quogue Wildlife Refuge into Quantuck Bay. This page is to help me and my siblings from debating where the creek ends and the bay begins endlessly.
Quantuck Bay is bounded Quogue, Westampton Beach, Quiogue and Westhampton Island, also known as Quantuck Island or Dune Road. as land masses. It is fed by Quantuck Creek, Aspatuck Creek and flows out thru Quantuck canal to Moneyboque Bay and also out thru the Quogue canal.
Quantuck Canal From the Bay to Moneyboque.
Aspatuck Creek, list as Aspatuck River in the USGS GNIS! However, Google Earth refers to it as a creek. The image below is from Google Earth, click to view larger.
To the left is a topographic map from 1904 - altho the survey was done in 1898. Hmm... So were the houses there in 1898? The image is from UNH Dimond Library.



Quantuck Creek and Bay from the Attic. < > Google Earth KMZ for Quantuck and Ponquogue Panoramas.
This was taken from the attic of your future home - QunatuckBay.com
Quogue by any other name. . . <> and, as it happens, Quantuck
From the Quogue Historical Society

In the 17th century, it was called Quaquanantuck – from the Indian quaquan, 'a trembling marsh' and tuck, or atuck, 'a place between streams.' The name referred to the meadows and marsh land between Shinnecock Bay and Quantuck Bay that seemed to tremble from the pounding of the ocean, and even when walked upon.

Following permanent settlement in the 18th century, the unwieldy Quaquanantuck was abbreviated to Coagg or Quago or Quag or Quoag or Quaug or Quagga -- and, finally, Quogue.
Want more? Check out: The Indian Place Names on Long Island and Islands Adjacent, with their Probable Significations, 1911 by William Wallace Tooker, 1848-1917. It is one of his many books on place names.
Quiogue History: Historical Profile of the Hamlet of Quiogue, by RONALD A. MICHNE, JR. (local copy) or excerpt: Quiogue Walking Tour
Quiogue Association <> The Westhampton Beach Historical Society
---
Westhampton Island
Listed in GNIS on August 1, 2010. Many, many Piping Plover studies made Westhampton Island the most used name. It has alternate names Quantuck Island and Dune Road Island. WikiPedia: New York Barrier Islands

(September 2009) While writing this page, I have become obsessed with the proper name for the what we have always called the Dunes. So, does the barrier island from Moriches Inlet to Shinnecock Inlet have a name? There are a few possibilities. The first of which is that Moriches Inlet did not create a new geological feature and that the Dunes in Westhampton are still part of Fire Island. This is supported by the Southampton Town Bay Constable. See below. The problem is that the UGSG feature Fire Island has a series points that stop at Moriches Inlet. William Schwab is a USGS employee who studies the sand mirgation of the barrier beach confirms that Moriches Inlet is the end of Fire Island, but, did not give a name to the piece of land to the East of Moriches Inlet. The USGS does have a "bar" named Westhampton Beach in addition to a village and populated place. This has a single coordinate right in the middle of Dune Road. There is some reference to this island as West Hampton Dunes, but, that is not supported by the USGS, which lists a village and populated place only for that name.

The strip of land is referred to as Westhampton Beach Barrier Island by the USGS article about the breach in 1992: The Westhampton Beach Disaster. That name is also used in a US Fish and Wildlife Study.

Another interesting web page: Creation of Shinnecock Inlet, &nbsp Moriches Inlet, &nbsp New York Times article from 1938
---
On Sep 17, 2009, at 4:36 PM, Julie Kranz wrote:

I spoke with the Sr. Bay Constable Ted Sadleir and he told me that the "island" you are referring to is known as the "Barrier Beach" and it is also considered part of "Fire Island", which was dredged through to make the Shinnecock and Moriches inlets.

Julie A. Kranz. Legislative Secretary, Board of Trustees of the Freeholders and Commonalty of the Town of Southampton
---
On Sep 18, 2009, at 9:13 AM, William Schwab wrote:
Fire Island is an island bounded by Fire Island Inlet on the west and Moriches Inlet on the East. It is part of a barrier island system extending from a spit extending from Southampton, sometimes referred to as the Fire Island barrier-island system.
AT one time Fire Island extended from Jones Beach Island to Southampton. In the 1680's, Fire Island Inlet formed, separating Fire Island from Jones Beach. Fire Island separated from Southampton in 1931 when Moriches Inlet was formed due to a nor'easter.
William C. Schwab, Director, USGS Woods Hole Science Center (author of barrier sand migration studies)
---
More Panoramas <> YON <> 2009.09.12