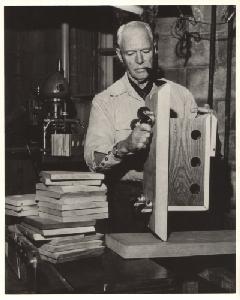 Clarence's woodworking
Gramps, aka Clarence Morgan Hardenbergh, aka, CMH2, had a huge woodworking shop in the basement of 66 Groveland Terrace with a drill press and a table saw, and more. He also had dozens of babyfood jars set up on wheels to see and get the right size screw or bolt.

On Sat, Jul 30, 2022 at 5:16 PM Brock wrote:
I told Shanan the other day how extraordinary Clarence Hardenbergh was, and that got me bemoaning the fact that we don't have a Clarence Hardenbergh Furniture Museum or even (that I know of) a collection of pictures of his creations. (For those who don't know what I'm talking about, for years Clarence collected exotic woods on the cruises he and Margaret took around the Caribbean, and he turned that wood into gorgeous pieces. In Wayne, we had a room divider and a game cabinet, as well as the woodbox now in Concordia.) I think there are now 3 or 4 of his pieces in Blue Hill and maybe a couple in Concordia. I was thinking about making a collection of photographs that we could post somewhere, but I don't know how many pieces are out there. Did Clarence favor Mary with the most creations? I remember the thrill of getting one of his big packing drums in Wayne. Does anyone have a Clarence piece that they could photograph? At least at some point we should get pictures of the Blue Hill pieces, so future generations who never visit Eagle Rocks will know what an artist Clarence was.

On Jul 31, 2022, at 8:14 PM, David wrote:
A live edge slab before they were the rage? Two stools for the collection--I think they were in Wayne, then Blue Hill, then Lyme NH and now Williamstown.

On Jul 31, 2022, at 7:31 PM, YON wrote:
Here is a bench and a table. [ only 2 pics as googlegroups has a size limit ]
I recall someone saying that Collis designed the curvey bench and Gramps made it. Perhaps that was actually about the Ark? But, I am sticking to the myth I know.
The round tables were the last things he made, I believe. I have a vague memory o them being new. I think he made 3 of them. I am offering to put a copy of the collection up on hardenbergh.org and I will copy the images up there after the initial flurry comes thru. They will be available. I think Brock would be better at assembling the stories and curating the collection.

On Jul 31, 2022, at 4:50 PM, Deborah wrote:
I don't remember an ark - although maybe there was one at Concordia? - but we still have the much-loved and much-played-with wooden blocks in the Blue Hill house, as well as the lovely wagon they live in - also Gramps made? Here is my Gramps table, I'll try to add it to the collection.

On Jul 31, 2022, at 6:07 PM, Sheppy wrote:
I have a Gramps very large collection of beautiful blocks. Gramps made Lincoln a chess board table but I do not know where it went. I last saw it at Waites Landing in Maine.
Bookcase.jpg - 2048x1536

CMH_stool1.jpg - 1512x2016

CMH_stool2.jpg - 2016x1512

Table.jpg - 3678x2464

Curvy Bench

Closer look

DisplayTable.jpg - 1536x2048

GrannySewingTable.jpg - 2048x1536

IMG_20220731_134427035.jpg - 3456x4608

IMG_3186.jpg - 4032x3024

IMG_3188.jpg - 3122x1376

IMG_3189.jpg - 3871x2630

RoundTable.jpg - 1536x2048

RoundTable1.jpg - 3024x4032

RoundTable2.jpg - 3024x4032

TallBookcase.jpg - 1536x2048

TriangularTable.jpg - 1536x2048

image0.jpg - 3024x4032

Cabinet_room_divider.jpg - 1911x3699

Cabinet_sliding_glass_doors.jpg - 3566x2665

Small_table.jpg - 2952x2102

Folding_table_for_VW_bus1.jpg - 3024x4032

Folding_table_for_VW_bus2.jpg - 3024x4032

Folding_table_for_VW_bus3.jpg - 3240x2538

Grandfather Clock

You almost see the clock

behind Granny

... in the dining room of 66 Groveland

Game Cabinet for Dethier Family 1950

MBNH description of Game Cabinet

and

Maisie's typed version
Thanks to Brock for getting the ball rolling and many cousins. 2022-10-25 jch